Waste Audit benefits include waste reduction and cost savings but it doesn't just end there.
Are you throwing out a lot of stuff in the name of 'garbage?' You may be throwing out a lot of "dollars" without realizing it. Hence, there is a strong need for you to be conscious of items you throw out as 'waste' and see if you can reduce, reuse or recycle them.
You can even pass them on to someone else who needs them. Not everything we don't need anymore has to go in the garbage.
If you are not sure why the waste or garbage we generate should be audited or if you are an organization looking to save money by reducing garbage cost, this post is for you.
Waste Audit Definition
A waste audit is the study of the waste your facility produces.
Simply put a waste audit has to do with looking at or analyzing the types and amount of waste you or your company generates.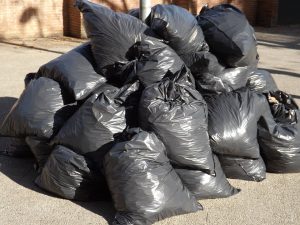 Waste audits help you gain understanding of the waste and recycling you produce.
Waste audits can be conducted anywhere – your home, offices, schools, motels, hotels, hospitals, retail shopping complexes to mention a few.
It is important to note that the result from one audit will be different from another. No two audits are the same.
The Waste Audit Process
The process involves:
Identifying the manner by which waste is managed.
Measuring the quantity of waste.
Identifying the composition of waste.
Problem areas are noted and finding solutions to those areas.
Comparing results from previous waste audits to see how well your organization is doing and how you can improve.
The results from your waste audit serves as the foundation for developing your waste reduction work plan. The work plan outlines the next steps that should be taken to minimize waste produced. The workplan should clearly state who's responsible for doing what, how the different wastes can be managed and timelines.
Statistics Canada Revelation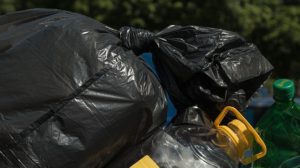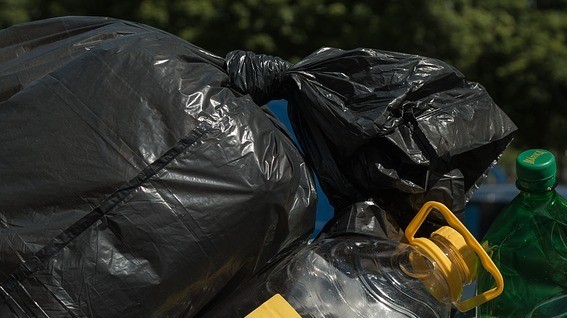 According to Statistics Canada, approximately 25 million tonnes of non – hazardous waste was sent to landfill in 2016. (This is the latest figure. Hopefully new waste figures for 2018 will be uploaded at some point this year since figures are updated on their site every 2 years).
It is shocking to point out that the figures from 2016 were very similar to that of 2014.
The figure was also broken down by source – IC& I (Industrial Commercial and Institutional) sectors, the non-residential source of waste disposal, produced approximately 14.7 million tonnes of waste while the residential sector produced approximately 10.2 million tonnes of waste!
Garbage if not managed properly sometimes make it into the oceans making sea animals sick! Not cool right? A great way of finding out how much garbage you generate is to carry out a waste audit.
Are you in Compliance?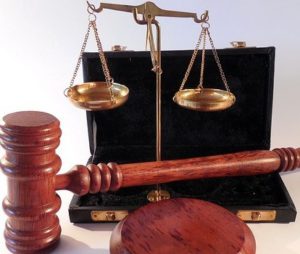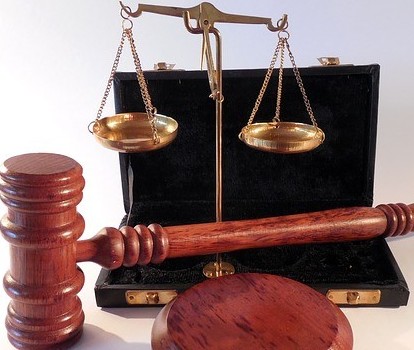 As an organization, you need to know if you are required by law to comply with waste audit regulations. Even if you are not required by law to do waste audits, you will still save money and preserve our environment – less waste, source separation, less pollution and fewer worries on spending so much on garbage disposal!
I will explain the meaning of source separation later on in this post, so keep on reading!
Waste Audits in Ontario – Huge Fines for IC&I (Industrial, Commercial and Institutional sectors
Did you know? Waste Audits are mandatory in Ontario, Canada for the Industrial, Commercial and Institutional (IC&I) sectors that fall in the categories listed below. In Ontario Canada, compliance officers go out and issue fines to these organizations for not complying with waste and recycling regulations.
| | |
| --- | --- |
| Facility | Criteria |
| Restaurants | 3,000,000 or more in gross annual sales |
| Retail shopping complexes | Floor area 10,000 sq. m (107,639sq. ft) |
| Retail shopping establishments | Floor area 10,000 sq. m (107,639sq. ft) |
| Office buildings | Floor area 10,000 sq. m (107,639sq. ft) |
| Educational Institutions | 350 students or more |
| Hospitals | Class A, B or F |
| Hotels and Motels | At least 75 units |
| Large Manufacturing Institutions | 16,000 hours worked or more per month |
| Large construction projects | Floor area 2,000 sq. m |
| Large demolition projects | Floor area 2,000 sq. m |
The facilities specified above must also have source separation programs (Ontario regulations 103/94) in order to gain and remain in compliance with Ontario regulations 102/94 (WASTE AUDIT REGULATIONS). Ensuring you have appropriate office recycling containers will make a difference in a work place.
It is therefore important to point out that if you have received a fine, they should be addressed now as these officers will follow up with your organization(s) to ensure you are in compliance.
If found to be non-compliant, fines will increase! That's not cool right? So what exactly is a Waste Audit and how do I define source separation? Keep on reading…
What is Source Separation?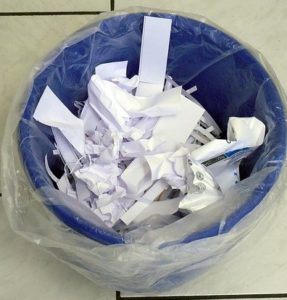 Source separation simply means, separation of items right at the point of generation! For example a worker sitting at his desk had to jot down a few things on paper. After use, he immediately puts the paper in the blue desk side bin meant for paper recycling.
There are so many benefits derived from separating waste right at the source.
Benefits of Separating Waste At Source
Separation of waste at the source is important because waste is managed efficiently and sustainably.
The only way to manage the waste you generate is to separate them in an efficient manner by keeping them in appropriate bins.
Mixing recyclables and waste will only result in contamination of materials. Managing your waste sustainably is key because the recyclables are not polluted by items that are deemed as 'waste'. Overall the material picked up is cleaner and are eventually processed into products of high quality.
When we separate waste we become more conscious of the amount we actually produce; at this point we should take it a step further by asking ourselves what more we can do to reduce, reuse or recycle them efficiently.
Why carry out a waste audit? Here are 8 Reasons Your Organization Needs To Conduct One Every Year
There are many reasons why it is important for all organizations including the Industrial, Commercial and Institutional sectors to conduct waste audits. In short, waste audit benefits are numerous.
1.)The obvious one is that you want to know the type of waste materials you throw out everyday and to see ways by which such materials can be minimized or eliminated from your waste stream. This way you end up diverting a lot of materials from landfill and you save money too!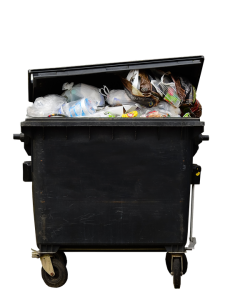 2.) A waste audit provides you with a data on the waste you generate. It will track pathways of your waste stream.
Reduction, Reuse and Recycling opportunities will be identified hence saving you money and saving the earth!
3.) Ways to improve your current waste and recycling practices are assessed.
4.)It is important for regulatory compliance. Designated facilities that do not comply are subject to fines.
These designated facilities however must conduct waste audits regularly in order to avoid fines that amount in hundreds of thousands of dollars!
The Ministry of Environment is going about these days to check all these facilities and place huge fines on businesses that are not complying with these regulations. I'm sure we don't want to be one of them! For more details on how to get help with waste audits, recycling and more click here.
5.) Set yourself apart: Distinguish yourself from other competitors by conducting waste audits regularly. Let others see you as an environmentally conscious company or organization.
6.) Reduce garbage cost – waste audits open our eyes to the amount of materials we throw out as waste and therefore it makes us more conscious.
It also makes us think of ways to cut down either by eliminating certain items, by reusing materials we already have such as cardboard, turning old clothes into napkins or even quilts, donating toys to others who need them and lastly by recycling some that can't be reused anymore. There are endless ways we can minimize wastage.
7.) Certifications – waste audits serve as basis for an organization to be 3Rs certified or LEED certified. It always feels good to work into an organization and you see their awards and achievements displayed in their lobby or reception area! Why not be one of them?
8.) Illegal dumping – waste audits will help you determine if a nearby business has been dumping their waste in your own bin or if employees and contractors are illegally dumping their waste on your premises!
Safety is key
Waste audits should always be carried out in an environment free of hazard. The team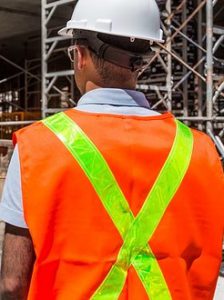 conducting the audit must always wear protective gear – boots, gloves, masks, reflective gear and hard hats.
What do you do after your waste Audit is completed?
Simple, the next step after the waste audit is to decide on how to go about reducing the amount of waste you generate.
The Good News – You are not alone
You don't have to do these waste audits yourself! Garbage can be messy but never mind, Green Forever Environmental will do the work for you.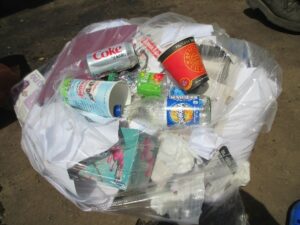 Green Forever Environmental will help you conduct waste audits regularly and even set up and monitor your waste and recycling programs to ensure you are doing the right thing! Say no to MOE (Ministry of Environment) fines. It's time to act! Save money and preserve the planet at the same time. It's a win win!
Conclusion
Waste Audit benefits are massive! Whether you are a business owner, a property manager, an assistant property manager, a supervisor, facility manager or a home-owner, I highly recommend you conduct waste audits on your property or properties regularly and separate your waste and recycling in appropriate waste sorting bins.
Waste audits are the key to controlling the amount of waste we generate. Infact, you will see how this decision will lower the amount of garbage you generate as this will also save you money.
Let me leave you with a few tips – never shop on impulse, keep a reusable bag handy at all times, reusable bottles will always come in handy so have one in your hands at all times.
Your company should consider doing waste audits to save money, keep garbage costs low, save the environment and gain compliance (for buildings affected). Let's limit the waste we generate by saying no to single use items and buying in bulk.
Have you carried out a waste audit in your office building, school, restaurant, hospital or hotel? Do you need help with Waste Audits? Green Forever Environmental can help you.
Share your thoughts with me by leaving comments below. I would love to hear from you.